Peter Andreas Nielsen, violin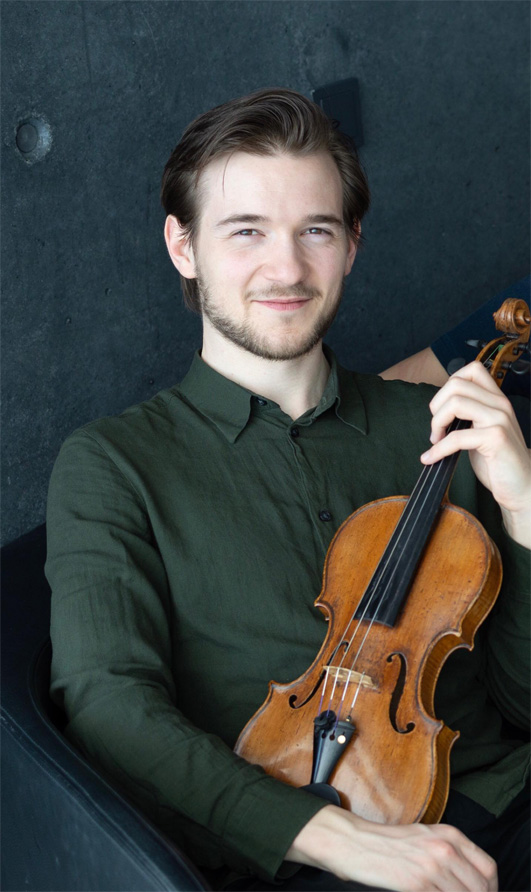 Peter Andreas Nielsen was born in Copenhagen and started playing the violin at the age of five.
He is currently obtaining an Advanced Postgraduate Degree in the Soloist Class at the Royal Danish Academy of Music with Nikolaj Szeps-Znaider and Peter Herresthal after former studies with Serguei Azizian and Tim Frederiksen and with Nicholas Mann at the Manhattan School of Music.
Additionally, Peter Andreas has studied chamber music with members of Juilliard and Tokyo String Quartets and has had master classes and received tuition from Gerhard Schulz, Krzysztof Wegrzyn and Liviu Prunaru amongst others.
As an active chamber musician, Peter Andreas has played numerous concerts and participated in festivals in Europe and the United States, amongst them are the 22nd Music Festival of Nafplio, Thy International Chamber Music Festival and Orchestra of St. Luke's Young Artist Series in New York in 2017.
Also an experienced orchestra musician, Peter Andreas was acting co-principal of the 2nd violins in the Iceland Symphony Orchestra 2018-19 in addition to regularly working with a variety of orchestras and ensembles in Denmark.
Peter Andreas is performing on a 1730 Carlo Bergonzi violin, kindly lent to him by The Royal Danish Academy of Music.