Dana Zemtsov, viola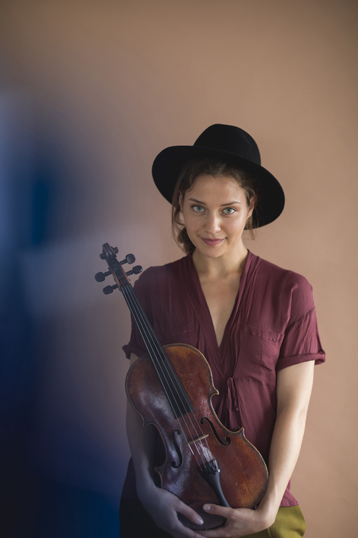 Dana Zemtsov Winner of numerous competitions and developing an outstanding career, Dana Zemtsov is one of the most promising international viola soloists of her generation. Highlights in this and the past seasons include Danas performance of the Bartok Viola Concerto in Tallinn and 2 concerts of Mozart Concertante in the Main Hall of the Concertgebouw (Amsterdam) with the Dutch Philharmonic Orchestra, playing chamber music with Janine Jansen and Martin Frost during the Utrecht Chamber Music Festival, and a recital in Carnegie Hall (New York). In 2016 Dana was invited to join the 43rd International Viola Congress as a Guest of Honour together with renown violists such as Ettore Causa, Bruno Giuranna and Tabea Zimmerman. In 2012 she signed an exclusive record deal with Channel Classics Records for three recordings, of which all three "Enigma", "Romantic Metamorphoses" and "Essentia" - her first orchestra recording with the Estonian National Symphony Orchestra under the baton of Daniel Raiskin have been received successfully by international press.
Dana is 1st Prize laureate of several competitions in Luxembourg, Italy, Austria, Germany, Portugal and the Netherlands. In 2010 she won the Dutch competition "Evening of the Young Musician", became the "Young Musician of the Year" and represented The Netherlands at the "Eurovision Young Musicians Competition" in Vienna. She has also been awarded the prestigious Anton Kersjesprijs 2014 and has been invited to perform at the celebration of the 25th anniversary of the Kersjesfonds in the big hall of the Concertgebouw.
Dana is regularly appearing on the most important international stages, amongst others the Royal Concertgebouw (Amsterdam), Tivoli Vredenburg (Utrecht), St. Petersburg Philharmonic Hall, Carnegie Hall (New York). Dana played chamber music with Janine Jansen, Itzhak Perlman, Pieter Wispelwey, Martin Frost and pianist Anna Fedorova. As a soloist, Dana performed and will perform with amongst others the Dutch Philharmonic Orchestra, Sinfonia Rotterdam, Lake Forest Symphony Orchestra, Stuttgarter Philharmoniker, Bergische Symphoniker, St. Michael String Orchestra, Arnhem Philharmonic (Netherlands) and Estonian National Symphony Orchestra, collaborating with conductors as Conrad van Alphen, Daniel Raiskin, Fabio Mechetti, Otto Tausk and Leif Segerstam.
International tours brought and bring Dana to Finland, Denmark, Germany, Mexico, Peru and the USA. She participated in the "Stars of Tomorrow" tour in Germany. Performed at the biggest festivals in the Netherlands as the Delft Chamber Music Festival, Grachten Festival, the International Chamber Music Festival Utrecht furthermore Dana appears in international festivals such as Kuhmo (Finland), Hemsing Festival (Norway) and Davos Festival (Zwitserland) West Cork Festival (Ireland) and International Music Festival Koblenz (Germany) amongst others. Dana was born in 1992 in Mexico City. At the age of 5 she received her first music lessons from her grandmother and from her parents, both viola players (Mikhail Zemtsov and Julia Dinerstein). She continued her studies at the Conservatory of Maastricht with the famous viola virtuoso Michael Kugel.