Experiences, senses and emotions
Ever since I established the Esbjerg International Chamber Music Festival in 1999, I have strived with increasing intensity to invite exclusive soloists and get them to play together in different combinations. All of them have broad experience from the world's most prestigious concert halls and are known for their ability to communicate the music to the audience.
These foreign guests collaborate with Danish talents in a highly creative atmosphere, so that the combined experience together enables "great performances" of the well-known - and sometimes the lesser-known - chamber music repertoire. But what is a "great performance"? It is a performance where it feels as if the music is created on the spot, played for the first time despite the fact that we all know it, and where there seems to be no difference in the artistic creation whether you are a musician or a composer.
My role as planner, programmer, scheduler, coordinator and violist is to step forward when necessary; but also to step back to allow all the pieces to fall into place. And with such a formidable collection of artists performing to the limits of human ability, it's often easier than I could have dreamed - as long as the sheet music arrives on time!
Together with you, dear audience, our goal is to present beautiful melodies with crystalline clarity and musical logic. But this cannot be experienced and understood without your sensitive listening and the atmosphere of receptivity we create together. Such is the nature of music; it is there not only to be thought about, but also to be sensed and felt.
Michel Camille, Administrative and Artistic Director
EICMF – 1999-2014
2012 - "Dreamland"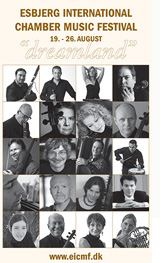 'French chamber music at its most beautiful' was presented by, among others, the young star soprano Helena Juntunen and concert pianist Henri Sigfridsson.
Helena Juntunen could also be heard in the Danish premiere of the work 'Dreamland', written by Denmark's most famous composer abroad, Poul Ruders, who was also a guest at the festival.
The programme also included Brahms, and - as always - a number of rarely heard musical gems, including Brett Dean's 'Voices of Angels' for strings and piano, and Peter Eötvös' 'Two poems to Polly' - for a speaking cello player.
For 37 years Niels Christian Øllgaard's dedication to the Esbjerg Ensemble, and since 1999 also his central role in the Esbjerg International Chamber Music Festival, had been of immense importance. In 2012 we welcomed Finnish Sini Simonen.
2011 - Mostly Mozart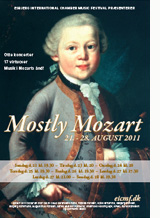 The title was far from meaning that 'only' Mozart was played. The programme was exotic in many ways: the colourful Brazilian Heitor Villa-Lobos was presented at several concerts and Danish Poul Ruders had written a Cha-cha-cha! There was also a virtuoso element as the great violinist-composers of the past, Fritz Kreisler and Eugène Ysaÿe, were given a new turn in the spotlight.
2010 - Karneval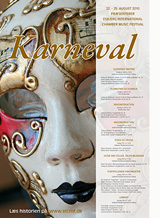 "Carnaval", inspired by and composed during the Leipzig Carnival of 1835, was part of the theme of this year's festival, which focused on the composer Robert Schumann and his contemporaries - in eight concerts from Sunday 22 to Sunday 29 August.
2009 - "Omkring Mendelssohn"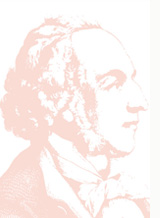 The EICMF presented German and Austrian masterpieces. Chamber music directly or indirectly inspired by Felix Mendelssohn, or inspired by him. The programme was a gem of both well-known and rarely performed works.
2008 "Sounds of Silence"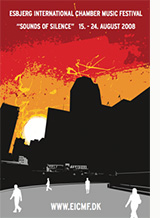 The festival's 10th anniversary season.  Mendelssohn, Dvorak, Ravel, Stockhausen, Schumann, Elgar and others in "Sounds of Silence"
2007 - Stemmer i Eksil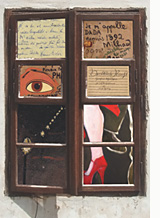 In particular, the politically turbulent period just before and after the two world wars forced many composers, artists and musicians to spend long periods of time in countries other than their country of birth. The uncertainty of life in exile and the longing for the motherland, combined with a fascination with the art and culture of the new homeland, perhaps made the music of these composers particularly powerful musical testimonies to the existential questions that people and artists have always faced.
2006 - Gran Partita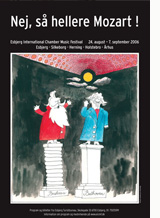 2006 was in many ways marked by the 250th anniversary of the birth of Wolfgang A. Mozart. The young man, who was only 35 years old, managed to write enormous amounts of chamber music. The EICMF took its starting point in one of Mozart's major works - the great Serenade no. 10, Gran Partita.
2005 - Beethoven & Brahms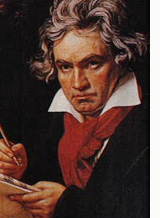 The great figures of classical music, Beethoven and his self-proclaimed and natural successor, Brahms.
Three of Beethoven's monumental piano trios and Brahms' beautiful clarinet quintet were on the programme, as well as a parallel theme of works by Norwegian composers.
2004 - Schubert og Xenakis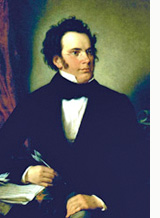 Special focus on works written in the last years of Schubert's short life. These works, with their beautiful melodies, harmonic progressions and swarming character, have come to symbolise the Romantic period, not only in music but also in other art and literature. As a commentary and contrast to Schubert, music by the French/Greek composer Iannis Xenakis also played a central role.
2003 - "En ko på taget, Dead Elvis o.a."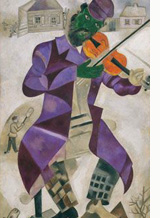 The festival was based on a series of works by Hungarian composer György Kurtág, who was awarded the Lèonie Sonning Music Fund Prize that same year.
Another feature was German puppet theatre in a performance of Stravinsky's The Soldier's Tale.
2002 - Per Nørgård /Tjekkiet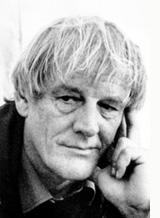 In addition to important works by festival composer Per Nørgård, the EICMF 2002 also focussed on the Czech composers Smetana, Dvořák and Janáček.
2001 - "SCHÖNBERG, NORDHEIM & SPANSKE RYTMER"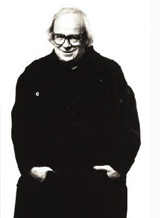 Key works by Arnold Schoenberg and gems from the classical repertoire. Arne Nordheim's 70th birthday was celebrated with a seminar and composer workshop. In addition, Prokofiev's Quintet was performed with two dancers under choreographer Esa Alanne.
2000 - "JOHANNES BRAHMS O.A."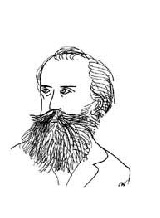 In addition to a number of Brahms' works alongside other chamber music classics, the EICMF 2000 featured choral music and also Hindemith's "Acht Stücke", to which Thomas Winding provided the story and voice.
1999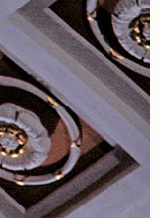 Internationally recognised chamber musicians in collaboration with Esbjerg Ensemble gave the name to the first chamber music festival.