Isidora Timotijevic, viola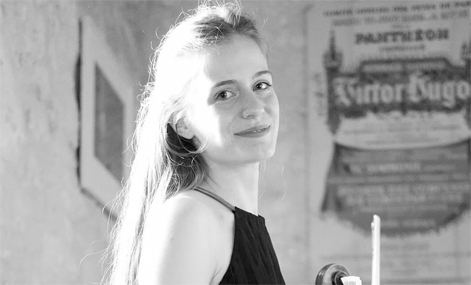 Isidora Timotijević was born in Belgrade, Serbia in 1997 and received her first violin lessons at the age of seven. At the age of 14 she changed to the viola and was tutored by Tomislav Milosevic. Since 2015, she has been studying at the MozarteumUniversity Salzburg with Professor Thomas Riebl. She also receives a scholarship from the International Academy of Music in Liechtenstein, where she regularly participates in concerts and masterclasses.
She has won numerous prizes at national and international competitions, both as a soloist and as a chamber musician. Isidora regularly performs with the Deutsche Kammerakademie Neuss am Rhein, Salzburg Chamber Soloists and Camerata Salzburg, giving concerts in Brazil, China, Germany, Hong Kong, South Korea, Switzerland and Austria. She has also participated in many festivals worldwide, including Musique à Marsac (France), Eggenfelden Klassisch Music festival (Germany), Festival Alpenarte (Austria), Mendelssohn on Mull (Scotland), Olive Classic Festival (Croatia) and in Festival Next Generation in Bad Ragaz.
In addition to her chamber music commitments, Isidora is also a member of Ensemble Esperanza, an un-conducted chamber orchestra made up of scholarship holders from the International Academy of Music in Liechtenstein which was recently awarded the OPUS Klassik award 2018. Since 2017 Isidora has been the violist in the Beija-flor Quartet, which she formed with her fellow students at the Motzarteum University Salzburg. She plays a Bernd Hiller viola made in 2015.